Murder party Worldwide
We organize Murder party from Italy to all Europe / Worldwide in english or in other languages. Our company is located in Italy near Orio al Serio (Milan) Airport and with Ryanair we can reach many destination.
Murder party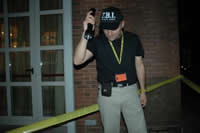 In our Murder party participants did not attend a theatrical performance: are the protagonists. A Murder party addictive, fun and full of mystery. The Murder party is an innovative, playful moment of aggregation and socialization.
Dinner with murder takes place in a very realistic and full of original involvement and fun.
Contact us for info on Murder party >>
Murder party: gaming event and / or training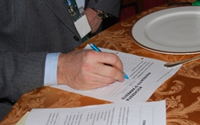 We specialize in organizing dinners and events with a crime for companies since our company training (www.olympos.it).
Dinner with a crime can be used as a pure playful moment as an instrument of corporate training team building and / or problem solving.
Murder party: low cost, standard and business
organize dinner with murder in three different versions to suit every budget (prices starting from € 1,200 + VAT for up to 50 people) and personalization:
Murder party low cost

;

Murder party standard

;

Murder party business

: custom (the killer, who is suffering from temporary amnesia transient ... is one of the participants at the dinner with the same crime).
All three types of Murder party are accompanied by money back guarantee.
Organize dinner with a crime in Italy and abroad in English or in another language. The customer is free to determine the location of your choice. The staff of Murder party arrive at least 2.5 hours before the start of Murder party to set up everything.
Murder party: crime scene
every detail of Murder party is treated to create an atmosphere of inquiry realistic software for professional identikit, real Wood ultraviolet lamps, electronic transceivers for the location of the mobile phone of the victim thrown away by the killer, clothing FBI agents, handcuffs for 'arrest of the culprits, safe with keypad, fingerprint true shooting range with amplification of the shots, real metal detector, etc..
Murder party: killer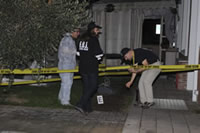 The gunman was shot transient global amnesia (TGA) often occurring after a strong emotional turmoil and is characterized by a sudden loss of the ability to store new information (anterograde amnesia). Instead preserved biographical memory, remember your name and any other information about the person. Typically, within a few hours, everything returns to normal and there are no other neurological symptoms. This means that the killer does not remember committing the murder. Participants in the Murder party knows that the killer is one of them (the business version). Through investigation must find out who it is. In the low cost version and the standard is to identify the killer among a list of 60 suspects.
Murder party: evidences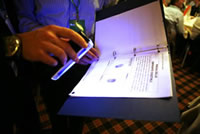 In the design phase of Murder party will collect information on the real killer (only for version Murder party business) that will be used for the construction of clues: for example the car (model, color and license plate), description, size, a fingerprint, age, shoe size, distinguishing marks etc..
Murder party: crime scene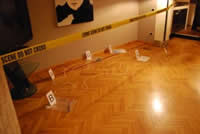 investigations begin after discovering the crime scene. Only at this point will be revealed to the participants in the event and its operation. Participants in the Murder party will be divided into teams of investigators who will work together to solve the intricate case.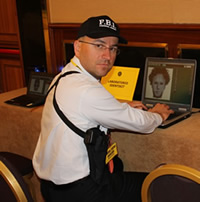 Detective Gianluca Gambirasio
Murder party
acenacondelitto@acenacondelitto.it